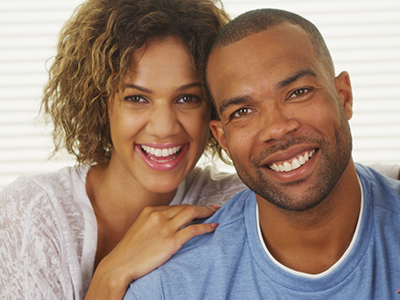 At the office of The Miller Center for Dental Excellence, we've established a reputation for excellence based upon providing skilled and experienced state-of-the-art care. We're dedicated to keeping pace with the latest technology and advances in treatment to provide our patients with the highest quality of care.
Despite the fact that dental enamel is stronger than bone and the hardest substance in your body, your teeth remain vulnerable to cavities and trauma. While dental fillings can provide an excellent way to repair a decayed or damaged tooth, they don't always provide the right solution for rebuilding a strong, functional one. When too much tooth structure is compromised by dental decay, trauma, root canals, or habitual clenching and grinding, a filling just won't do. In these situations, a dental crown, more commonly referred to as a cap, provides a better way to restore the involved tooth's integrity, function, and appearance.
Thanks to advances in dental ceramics, dental crowns today don't have to be fabricated from metal or have a metal substrate. We can now fabricate all-ceramic crowns that offer the benefits of being metal-free, durable, long-lasting, and as beautiful as a natural tooth.
At the office of The Miller Center for Dental Excellence, patient care, comfort, and satisfaction are our top priorities. We personalize every treatment plan to address our patients' oral healthcare needs and fulfill their cosmetic expectations of care.
Why you may need a dental crown
Successful outcomes of care depend on careful treatment planning and paying close attention to a patient's smile goals and expectations of care. Whether you need a dental crown or one of the many other services we provide, you can count on our office to explain your best options in care and to address all your questions and concerns every step of the way.
A dental crown is a full-coverage restoration that replicates the form and function of a natural tooth. It's often recommended in the following the situations:
To repair and rebuild a tooth with extensive structural damage due to decay or trauma

To replace a large or broken filling

To restore a dental implant

To provide full coverage for the abutment teeth, serving as the supporting ends of a traditional dental bridge

To strengthen and protect a tooth that has undergone root canal therapy

To improve the look of an undersized, slightly misaligned, darkly stained, or misshapen tooth

To address bite discrepancies

What are the benefits offered by ceramic crowns?
Out of all the available materials for a full-coverage restoration today, metal-free crowns, also known as all-ceramic crowns, offer the most lifelike and biocompatible results. Once commonly referred to as "porcelain jackets," today's all-ceramic crowns are fabricated from the most advanced generations of cosmetically appealing, durable, and natural-looking materials. With strength comparable to traditional metal and porcelain fused to metal crowns, all-ceramic crowns provide a highly satisfying and long-lasting option in care.
As the name implies, the term all-ceramic crown means the crown's entire thickness is 100% ceramic. While in the past, porcelain or all-ceramic crowns looked better but did not offer the strength and durability of porcelain fused to metal crowns, it's no longer the case. Thanks to advances in dental materials, they are stronger and more reliable than ever before.
Here are just some of the reasons we recommend an all-ceramic crown:
All-Ceramic crowns interact with light in much the same way as natural teeth and more closely mimic their translucency and luster

All-Ceramic crowns can be made thinner and require less reduction and preparation of the underlying tooth

All-Ceramic crowns are lighter in weight than dental crowns that incorporate a metal substructure

All-Ceramic crowns are also kinder to the surrounding soft tissues.

All-Ceramic crowns are resistant to stain and discoloration

All-Ceramic crowns are metal-free and safer for individuals with allergies or sensitivities to metal

All-Ceramic crowns resemble a natural tooth in its entirety and do not have a metal margin, which is often visible at the gumline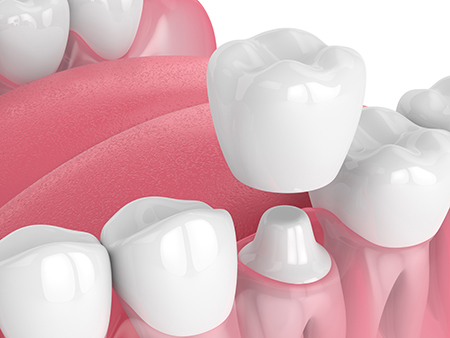 The type of ceramic crown selected depends on your needs
You can rest assured that your new ceramic crown will look naturally beautiful and blend seamlessly with your smile. Our office never compromises on service or materials; your new crown is milled from the latest generation of durable ceramic materials, for the most aesthetically pleasing and natural-looking results.
With the range of dental ceramics available today, which type gets selected to fabricate your new crown depends upon the tooth's location, the stresses on that tooth, and the case's aesthetic requirements. Certain types of all-ceramic crowns are more suited to provide the strength needed for back teeth, while other types better address a front tooth's aesthetic requirements. Although Feldspathic porcelain has been traditionally used in the fabrication of porcelain crowns, today, newer generations of dental ceramics provide options that work for the front teeth as well as the back teeth.
Some of the most popular and effective choices include the following:
Lithium Disilicate Porcelain Crowns

Leucite Reinforced Pressable Porcelain Crowns

Solid or Monolithic Zirconia

High Translucent Zirconia.
With multiple types of all-ceramic crowns to choose from, selecting the right material for an attractive, durable, and long-lasting restorative outcome is a crucial decision.
At the office The Miller Center for Dental Excellence, we carefully analyze your smile's functional and aesthetic requirements to formulate a treatment plan that's right for you. You can rely on our office to recommend the type of ceramic restoration that best suits the unique needs of your smile while fulfilling your expectations of care.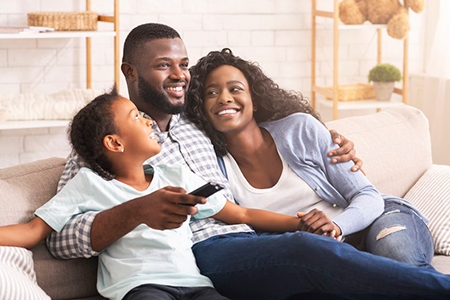 Why choose the office of The Miller Center for Dental Excellence?
When it comes to helping patients achieve a smile, they feel confident sharing with the world; you can depend on the office of The Miller Center for Dental Excellence for the highest quality of care. We strive to help every patient maintain optimal oral health and enjoy the benefits of a smile that looks great and functions at its best. Our practice maintains a position at the forefront of advances in dentistry to offer patients effective and satisfying solutions for improving the look, feel, and function of their smiles.
We understand the functional and aesthetic requirements of restoring smiles and provide skilled care that successfully combines the art and science of dentistry to achieve outstanding treatment outcomes. At the office of The Miller Center for Dental Excellence, we offer a comprehensive range of services to address all your family's oral healthcare needs.
For more information on our office or to schedule an appointment for care, give us a call today.
FAQs
+
How does a crown differ from a filling?
While a dental filling is designed to replace a portion of a decayed or damaged tooth, a dental crown offers full coverage to restore the tooth's entire outer surface. A well-fitting dental crown not only protects and strengthens the underlying tooth structure, but it also restores the tooth's appearance and function.
+
What's the procedure for getting an all-ceramic crown?
The procedure for getting an all-ceramic crown is much like the procedure for getting any other type of crown. In all cases, the tooth needs to be prepared, an impression taken, and a permanent crown cemented into place. A single all-ceramic crown can typically be fabricated over the course of two visits. However, with CAD/CAM technology, a same-day crown can be fabricated from start to finish in a single visit. With the first approach, a temporary crown is typically worn until the second visit, when the permanent restoration is placed. As with every treatment plan, our office will explain your best options in care.
+
What's the difference between a temporary crown and a permanent crown?
As the name implies, a temporary crown is only worn for a short time until the permanent crown is placed. A temporary crown is typically fabricated from durable tooth-colored dental acrylics. While designed to protect the underlying tooth between appointments, and until your new permanent crown gets placed, a temporary crown is also fabricated to look like a natural tooth and maintain the look of your smile.
+
Will my tooth feel any different?
While you should feel better having an attractive and functional tooth to restore your smile, your tooth may feel a little sensitive following treatment. This initial sensitivity will subside. We take great care to make sure your new restoration looks great, fits well, and your bite is perfect. However, we're always happy to make any minor adjustments to ensure your comfort.
+
Does a tooth that has had a root can procedure need a crown?
With some exceptions, teeth with root canal procedures are typically restored and protected from further damage with a full-coverage crown. Based on what's best for your smile, our office will recommend the most appropriate restoration to maintain the health and longevity of your tooth following a root canal procedure.
+
How do I take care of my new crown?
A dental crown is a long-term restoration that, if properly cared for, can serve you well for many years to come. Once your new crown is placed, it requires the same brushing, flossing, and periodic checkups as your natural teeth. Avoid biting your fingernails and chewing on hard or sticky objects such as ice, pencils, or taffy, which can damage or loosen your crown. Remember, clenching and grinding your teeth puts excessive pressure on both natural teeth and dental restorations. Unless treated, this habit can compromise the longevity and integrity of your dental work, including crowns.
+
Does a crown protect my tooth from cavities and gum disease?
Although your new all-ceramic crown restores the tooth's strength, form, and function, you can still develop dental disease in the absence of proper care. To prevent gum disease and tooth decay, it's essential to brush and floss as instructed and see our office for routine checkups, cleanings, and care.
+
How long do all-ceramic crowns last?
How long a dental crown lasts depends on various factors, including your level of oral care, diet, and oral habits. While the standard answer is that dental crowns can last anywhere from 5 to 15 years, existing literature confirms that most dental crowns remain in place at 15 to 20 years.
+
How much do all-ceramic dental crowns cost?
At the office of The Miller Center for Dental Excellence, we strive to provide the highest quality of care to address all your dental needs. Once we've had the opportunity to examine your smile, we can give you a clear picture of any dental issues that are present, along with a quote for how much treatment will be. The cost of dental crowns can vary a little, depending on the type of crown and its location. Our goals are to provide the highest quality of care and help patients begin treatment without additional financial stress or delay. We're always happy to answer all your questions on dental insurance coverage, available financing, and payment plans.
+
Does dental insurance cover all-ceramic crowns?
Coverage for all-ceramic crowns depends on your dental insurance plan. Today, many dental plans provide some level of coverage for all-ceramic crowns. At the office of The Miller Center for Dental Excellence, we work with patients to optimize their dental benefits and get the care they need to maintain healthy and beautiful smiles!